Analysis and reaction to the awesome Black Panther teaser trailer
Marvel

By
Charles W-W
, Member
---
The first trailer for Marvel Studio's much anticipated Black Panther film was revealed over the weekend, and we've got the whole thing covered with our analysis and reaction.
Analysis
Firstly, we have Andy Serkis back reprising his role as Ulysses Klaue – looking more like Klaw (a bad guy with a claw for a hand) than ever, now that he only has one arm thanks to Ultron. Klaue here is being interrogated by Martin Freeman, who is also reprising his role as Everett K. Ross – an American G-Man tracking the goings on of superheroes across the world.
In this scene, Ross tells Klaue what he thinks Wakanda is; a third world country that has nothing but "textiles, Sheppards, cool outfits". Klaue reacts to this by telling Ross that the third world country Wakanda is just a front. I believe that Ross does actually know the true nature of Wakanda, but is concealing that information to make Klaue seem a bit crazy, as Klaue claims to be the only to have gotten out of Wakanda alive.
Whilst this is going on, behind a one-way mirror T'Challa (Black Pather), played by Chadwick Boseman, and Okoye (Danai Guirira – of Walking Dead fame) watch as Klaue seemingly loses his mind.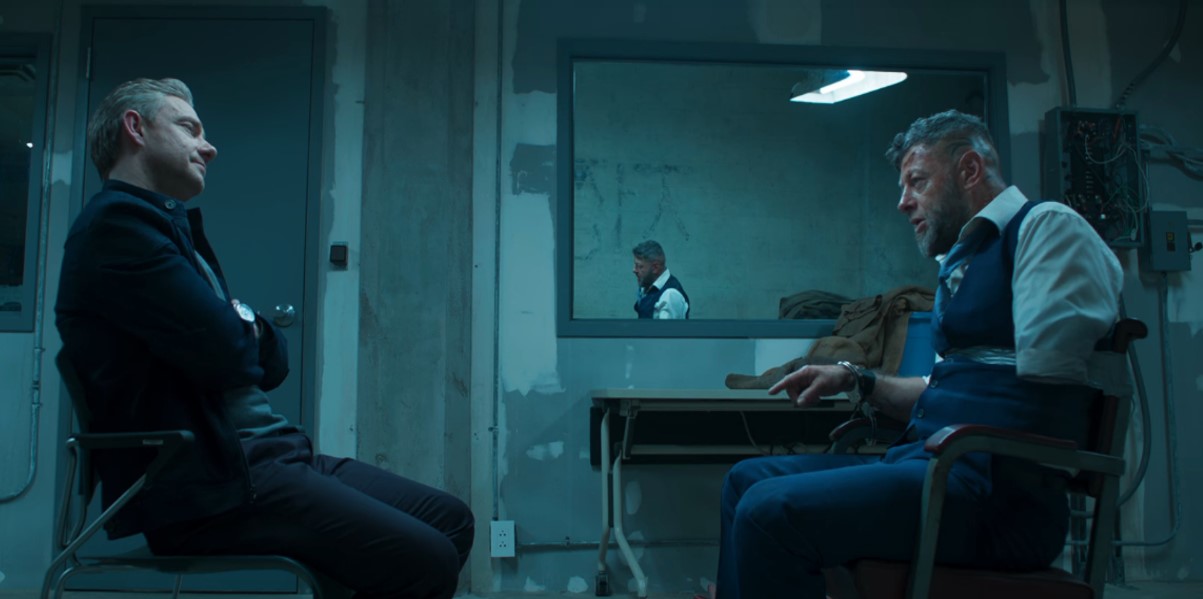 Next, we're shown T'Challa walking out of some high-tech carrier and onto what looks like a watery arena. As he moves forward, we can see in the background loads of tribe people up in the stands cheering. Forrest Whitaker's character, Zuri, greets T'Challa. It seems that Zuri is a trusted advisor or companion to whoever is the king at any given point.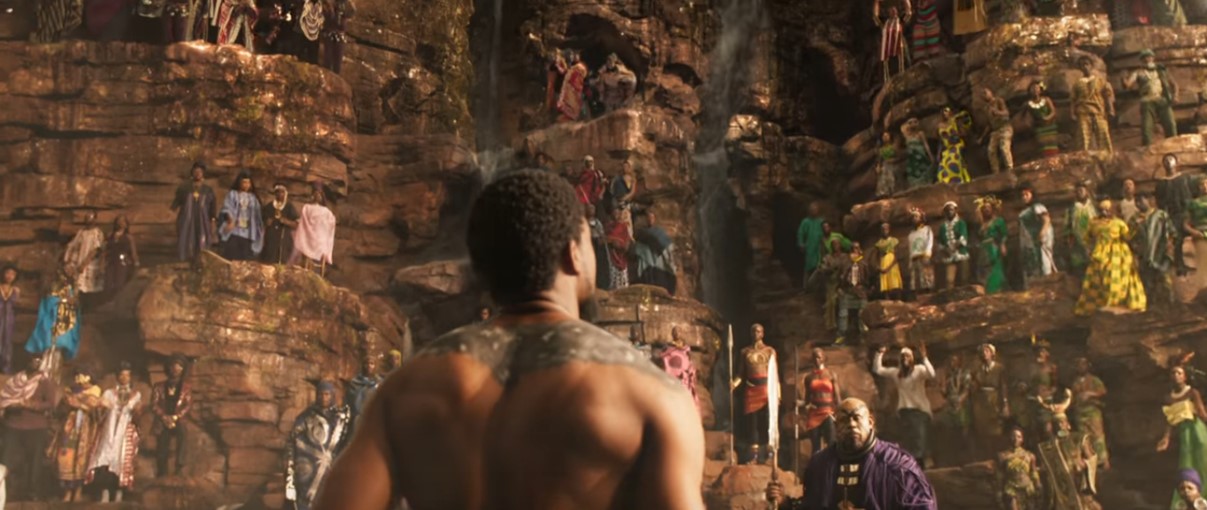 After this we get a cool sequence of a Black Panther doing some stealthy Black Panther-ing. You'll notice I phrased it, 'a Black Panther' because these soldiers look like they could be from way back in the past – like the 60s or 70s – given their old-timey radios and weaponry. This would mean that it could be T'Challa's dad, T'Chaka, as a previous incarnation of the Black Panther. As established in Captain America: Civil War, the mantle of Black Panther is passed down through the generations.
The other possibility is that those soldiers just happened to have crappy equipment but are in fact from present day. Though I really do hope this is a flashback to T'Chaka doing some Black Panther-ing because that just means more history for us fans to eat up!
The suit in this scene is looking cooler than ever as the wearer just walks through speeding bullets like they were nothing.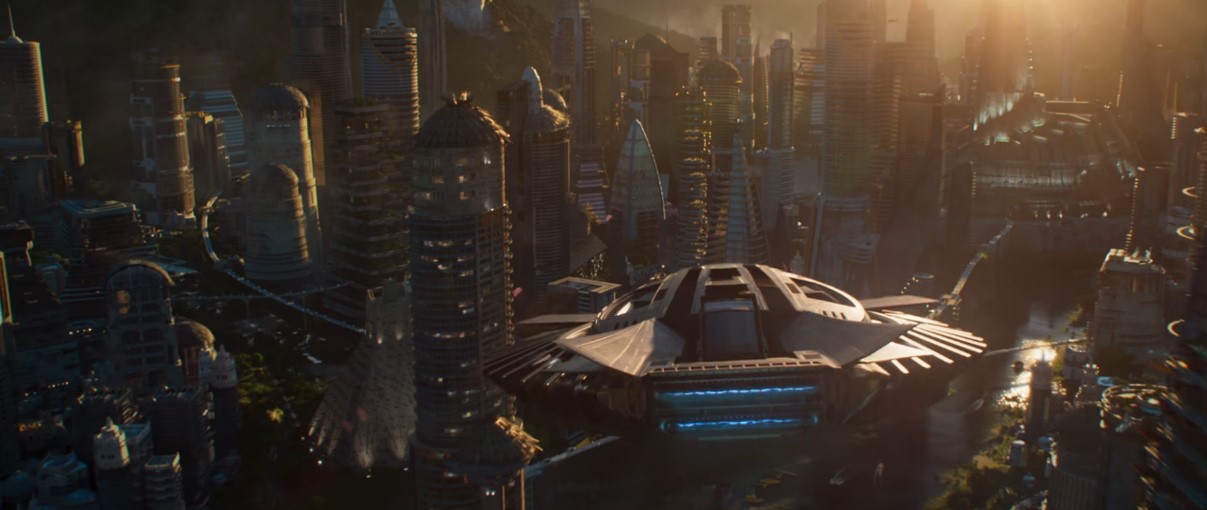 Following that we have a shot of Michael B. Jordan playing the key villain in this film, Erik Killmonger. He seems to be breaking Klaue of out of his interrogation with Ross or, what I'm guessing, attempting to assassinate Klaue to uphold the unwritten policy of Wakanda; 'outsiders that come in don't make it out alive.'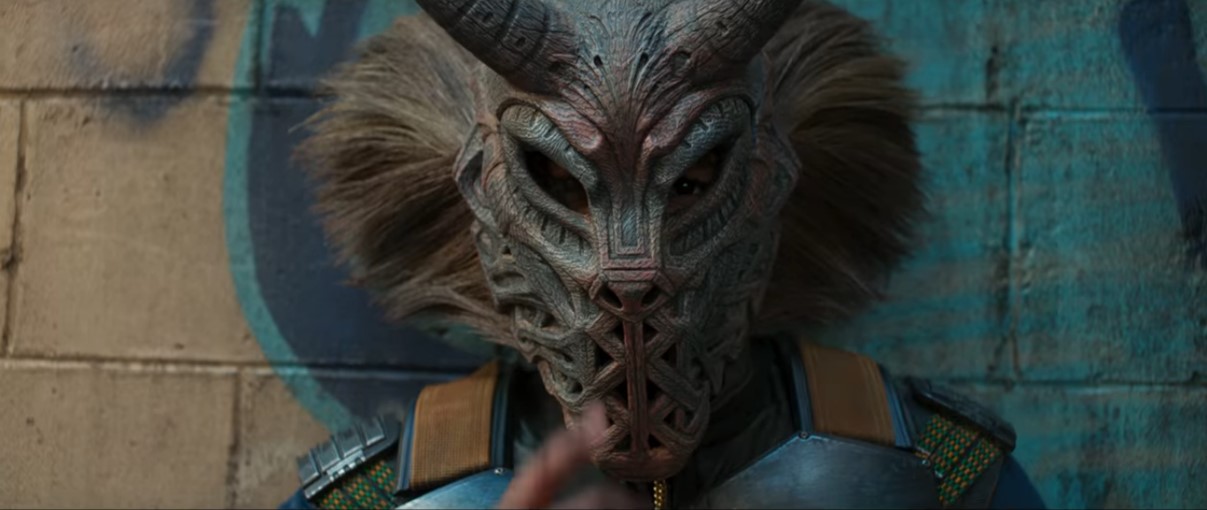 We get a small glimpse of one of T'Challa's warrior women fighting a security guard in a casino, though this glimpse was so small and fast I couldn't get a good enough screenshot of it, my bad.
Another shot of Killmonger on trial in what looks like the throne room for T'Challa and the other heads of the all tribes that live in Wakanda. Killmonger here is being chaperoned in by that bloke that played the lead in Get Out, Daniel Kaluuya, who plays W'kabi (T'Challa's second in command) in Black Panther.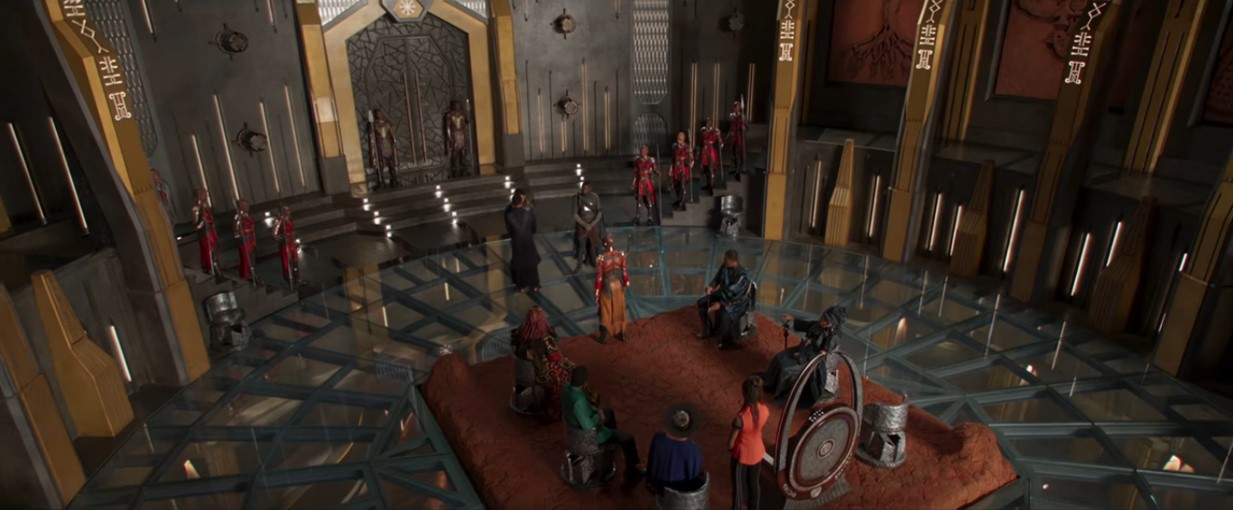 Following from that, we get a follow up of the scene at the start of the trailer, with the watery arena where T'Challa and Killmonger are having some sort of combat trial. My guess is that it's a challenge by combat-like situation where perhaps Killmonger is challenging T'Challa for the throne (this way we get a back story as to why Killmonger may not like T'Challa). Again, this scene is too fast for me to get you a screenshot, I sincerely apologise.
I did however get a screen shot of the next scene where Oscar winner Luptia Nyong'o is holding a couple of ultimate Frisbees with her friend who is armed with two Mega Man blasters!

To top off this trailer we're treated to a 'nice' slow-motion 180 backflip car-to-car by yours truly, Black Panther, scoring a three out of 10 for the overuse of CGI – but at least he stuck the landing like a true Panther.
My thoughts
My only problem with this trailer is that it went way too fast for me to catch up and understand what was going on. It wasn't until I sat down to do this review that I could take stock of everything that was actually packed in there (and that's only because I re watched every scene around 10 times to bring you this marvellous review – you're welcome).
Though this is a minor problem which can fixed by slowing the video down in the YouTube settings.
With that out of the way, I really enjoyed this trailer. We get some Black Panther being all indestructible, we get a look at the gorgeous setting, and a glimpse at the all-star cast. Director Ryan Coogler's previous credits include Fruitvale Station and Creed – both also starring Michael B. Jordan (Killmonger). Chadwick Boseman (Black Panther) played the legendary James Brown in Get On Up, while Lupita Nyong'o is known for 12 Years A Slave and The Force Awakens.
I'm sure that, performance-wise, Marvel Studios/Kevin Feige have never placed a property in safer hands than this cast.
I do hope that Marvel are able to show some restraint with this movie's marketing, and not keep pushing out lots of trailers that spoil too much (like in Spider Man Homecoming's advertising run).
Though one little note on this trailer concerns the use of music. In this trailer we heard from Run the Jewels' song Legend Has It. If you've heard the song before in full, it seems like a great hype song for a trailer, but I'm not feeling the hype at all from all these trailers that use rap songs with offsets of dubstep. If whoever edited this trailer wanted to impress the savvy audience who would pay attention to the song choice in this trailer, then maybe mixing in something that speaks up to black pride (since this film has a predominately black cast) would have worked better. For me I would have loved to have heard something from Kendrick Lamar or Vince Staples perhaps. Maybe even a more lyrical Run the Jewels song, or Kanye West (but Kanye West from Yeezus) -but anything of that nature.
Anyway, thank you for reading this review, it's muchly appreciated! This is my first review, so please feel free to give me feedback even if you think it'll make me cry, at @charliewarnerw.