Bif shares his experience with this great cause, and how you can light up a young wrestling fan's face this festive season
---
Published 4th December 2017
---

By
Bif Senter
, Member
---
I have been in love with the Christmas season my whole life. Everything about it makes me so happy. I love music, the lights, the food, the sense of wonder… all of it. I get into the spirit and I stay that way the entire month of December. As a kid I was obviously very excited to get all the gifts I could possibly get. Christmas morning was the absolute best thing ever and I remember the pure excitement I would have, shaking with joy while I tried to sleep. I couldn't wait to see what Santa brought me and I was never disappointed with my haul. My parents were by no means rich, both teachers, but Christmas was never a small affair in my home. We are gift givers and we all went overboard. But we love each other and we wanted to go above and beyond.
By the time I graduated high school, I was still into Christmas but the sense of childhood wonder had slipped away. I remember my last Christmas living with my parents that my sister had to come wake me up because I wanted to sleep in. I had become a stereotypical teenager. After high school I moved to San Jose, California and joined City Year, a non-profit that goes into schools and works with kids to ensure they graduate. It was amazing work and I loved it so much. Right before our Christmas break, the entire site was signed up to help with a very special Christmas event. And that event changed my life forever.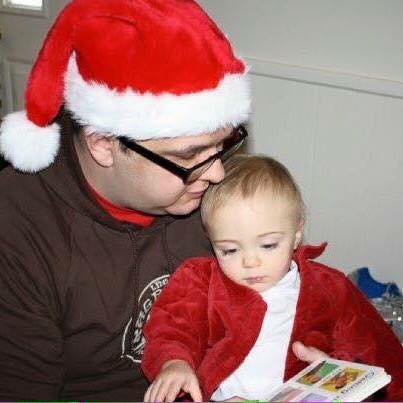 Bif and his niece enjoying the festive season. Credit: Bif Senter
San Jose was going through a large unemployment period and some large factories had just closed in the fall of 2002. Many families were struggling and with Christmas coming up, many parents faced the heartbreaking reality that Santa wasn't going to be able to visit their house that year. The local Toys 4 Tots, United Way, and other local charities saw this and decided to act. They came up with a brilliant and amazing idea; all those kids would come see Santa. They would sit on his lap and they would tell him what they wanted the most for Christmas. And behind him was an entire warehouse filled with toys. The kids would give him their wish and then one of the elves would come back, tell the room what the toy was and we would go find it.
We raced around and looked for what the kids asked for amongst the thousands of toys, dolls, games, video game systems, and anything else you can imagine. We had sorted them out so it was easy to find. Once we found it, we ran it up to the elves and they would slide it into Santa's magic bag. We would have been talking to the child and distracting them in the meantime. The parents had no idea what was going on either.
And then old Saint Nick would reach down and give that one special gift to the child. I can tell you that 15 years later, I remember every single child's face. The look of pure joy, surprise, and wonder was overwhelming. The parents were just as overcome. Tears of absolute joy filled the room, not a single person could hold it together. And that went on for seven hours. Hundreds of kids came in and had their Christmas wishes granted. Parents broke down and wept with me. It is a memory that I will carry with me until my last breath. I knew from that day forward, I had to keep bringing this kind of magic to kids, to help carry on the love and joy I witnessed that day.
Every year since 2002 I have volunteered with and donated to Toys 4 Tots. It's a wonderful organization that supplies toys to families that can't afford them. Kids that would have a Christmas with no presents get to have a little slice of joy and parents get to see their children have that sense of wonder a little bit longer. It is an amazing charity and I love working with them.
Last year, I decided to combine two things I love; wrestling and Toys 4 Tots. I started a GoFundMe to raise money to buy wrestling toys to then donate them to Toys 4 Tots. A lot of girls and boys love wrestling but wrestling toys are among the least donated. I wanted to change that. I know there are little kiddos that really want a John Cena or a Sasha Banks toy and they might not get them. I want to make sure the next generation of wrestling fans are being groomed to be fun loving, awesome, and kind.
So I am doing it again this year.
I have raised $255 as of this writing and I want to get to over $300. If you can, please donate. I want to make this year a huge year and make sure all the kids that love wrestling can get a toy that will make them scream and dance with joy.
Thank you for reading this. I hope that whatever holiday you celebrate, you have a great season. Do something nice for a stranger, smile at people when you are shopping, and feel free to sing a song out loud!
Until next time, remember that you're the tops!